 Pakistan police continue in hunt for five-year-old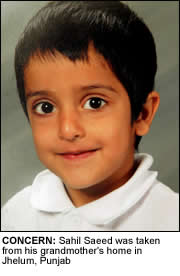 THE father of kidnapped Sahil Saeed has flown back to the UK, ignoring pleas from authorities in Pakistan to stay in the country, it has been reported.
The BBC said police in Pakistan had wanted Raja Saeed to remain in Pakistan as the hunt continues for his five-year-old son.
George Sherriff, a spokesman for the British embassy in Islamabad, said: "We can confirm that Sahil's father has returned to the UK and we continue to give him consular assistance."
Sahil, from Oldham, Greater Manchester, had been due to fly back to Britain with his father just hours before he was snatched by gunmen at the family home in Jhelum, Punjab on 3 March.
The kidnappers have made little contact with the young boy's family since demanding an initial £100,000 ransom. 
Mr Saeed has not been named as a suspect in his son's disappearance and is free to travel.
The Foreign Office said the kidnapping was being "overseen at the highest levels in the Pakistan Government".
Consular staff from the British High Commission in Islamabad are in close touch with the Pakistani police investigation which has been hit with controversy after five officers were suspended for not responding to the family's initial emergency call.
But the Foreign Office said the case had reached the hierarchy of the Pakistan government.
 "Consular staff are continuing to provide support to the family, both in the UK and Pakistan. Our High Commission in Islamabad is also in regular contact with the police officer leading the investigation," a statement said.
"Pakistani police are conducting vigorous enquiries and we know Sahil's case is being overseen at the highest levels in the Pakistani Government. The Foreign Secretary is following the case closely and is receiving regular updates from the British High Commission."
Meanwhile in the UK nearly 10,000 people have signed up to the Facebook page 'Free Sahil Saeed'.
Related Articles