 Dr Ranjan Bhattacharyya named Asian Scientist of the Year 2009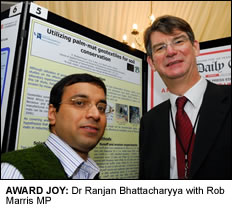 A FORMER University of Wolverhampton Ph.D. student has received a prestigious international award for his research into soil and water conservation in Asia.
Dr Ranjan Bhattacharyya has been named Asian Scientist of the Year 2009 by the World Association of Soil and Water Conservation (WASWAC)
.
Ranjan, a scientist of Vivekananda Institute of Hill Agriculture (VIHA) in Almora, India, was awarded his PhD degree by the University of Wolverhampton in September 2009. He was selected for the WASWAC Award on the basis of his scientific contributions to soil and water conservation in the Indian Himalayas.
Ranjan said: "I was amazed, but also delighted to have won this award. The award reflects the hard work I put in, but it is also a testament to the academic and emotional support I received from so many staff of the VIHA and from the University of Wolverhampton."
Ranjan was nominated for the award by thanked Professor Mike Fullen, Professor of Soil Technology at the University's School of Applied Sciences.
Professor Fullen said: "Ranjan is an excellent, dedicated and hard working researcher. I am confident his work will make a valuable contribution to soil conservation in Asia and beyond."