 British Asians back BBC station as pressure grows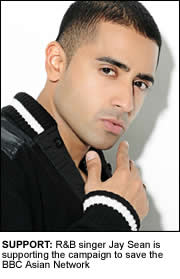 A NUMBER of high-profile stars have called on the BBC to reconsider proposals to axe the BBC Asian Network.
It is the first time the station has attracted high profile support since BBC director general Mark Thompson announced plans to shut the station as part of a major service review.
In a letter sent to the Guardian Newspaper, the signatories, which include film director Gunrinder Chadha, singer Jay Sean and actress Shilpa Shetty, said the station provided a "key platform for the national Asian community."
The letter said: "The BBC we have grown up with has always prided itself on celebrating diversity. In that respect, the Asian Network is a national platform for musicians, Asian culture in general, news, debate and documentaries.
"It provides a key platform for the national Asian community, and offers an outlet to British Asian talent, which is demonstrably underrepresented in the more mainstream BBC. This would all be tragically lost if these proposals are agreed."
BBC director general Mark Thompson said the Asian Network could be replaced by five smaller local stations.
But it is an option the signatories said would not work.
"Reducing broadcasts to just a few hours a day would be a retrograde step leaving us with only the commercial Asian stations," the letter continued.
"These stations will not and cannot deliver as comprehensive service as the BBC Asian Network. This is a vital part of what the BBC offers in the name of public service broadcasting. As loyal licence-fee payers we trust we will not be let down."
Fans of the station are also lobbying on social networking site Facebook with the 'Save The BBC Asian Network!!!' page attracting over 20,000 supporters.
Related Articles