 Rajveer Sehangera jailed and disqualified from driving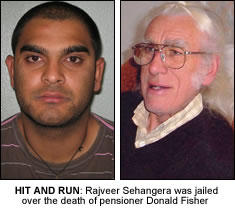 A MAN who continued to lie to police after he knocked down an elderly pensioner before fleeing the scene had been jailed.
Rajveer Sehangera, 29, from Ilford, was jailed for five and a half years and disqualified from driving for seven years for the hit and run which killed pensioner Donald Fisher in August 2006.
Sehangera was convicted of causing death by dangerous driving following a trial at Snaresbrook Crown Court.
The Court was told Sehangera and other members of his family continued to frustrate the police investigation after refusing to reveal who was driving the Ford Sierra Sapphire Cosworth when it stuck Mr Fisher on 23 August 2006. 
The court heard after colliding with Mr Fisher on Aldborough Road South, Ilford, Sehangera fled the scene and abandoned the car nearby.
Police enquiries led to the arrest of Sehangera, along with three other family members, on suspicion of causing death by dangerous driving and perverting the course of justice. All four denied being the driver of the car at the time of the accident.
In January 2009 three members of the family pleaded guilty to conspiracy to pervert the course of justice at Snaresbrook Crown Court.
Sehangera was sentenced to 18 months imprisonment, his brother Varjeet was jailed for six months and his father Avtar was sentenced to three months imprisonment. Another family member had his conviction left on file.
If was after this hearing that Sehangera finally admitted to police that he had been driving the car that struck Mr Fisher.
But during his trial this month Sehangera retracted his admission, claiming again that he was a passenger in the car.
A jury however refused to believe him and he was found guilty.
Detective Inspector Simon Sharp, from the Met's Collision Investigation Unit, said:
"This has been a particularly complex investigation, with members of the Sehangera family deliberately misleading police. This should serve as a reminder that those who behave in a criminal manner on London's roads will be pursued to the full extent of the law. The sentence passed shows the severity with which this behaviour is viewed by the courts.
"I hope that Sehangera's sentencing provides some closure for the family of Donald Fisher who have had to cope with the loss of a loved one in such tragic circumstances."