 West Midlands Police accept watchdog findings in death of Rabina Bibi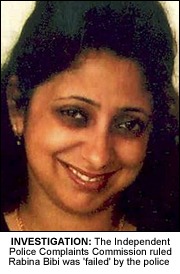 POLICE failed a woman whose former partner stabbed her to death in front of her young daughter, the watchdog has ruled.
Rabina Bibi, 35, died at her home in Foleshill, Coventry, in September 2008. She dialled 999 on the night of her death when her ex-partner Zakarya Rezaie banged on her front door.
The Independent Police Complaints Commission (IPCC) said West Midlands Police "failed" Ms Bibi, who was with her seven-year-old daughter at the time, by not sending out an officer when she called.
Police should have arrived within half an hour.
IPCC commissioner Len Jackson said: "She was entitled to a police response within 30 minutes based on the information she provided and it failed to happen. It will never be known whether she would still be alive today had police officers been despatched to her in accordance with force policy."
Ms Bibi first dialled 999 at 7.36pm on September 3, 2008, to tell police that her ex was banging on her front door, the IPCC said. Six minutes later she made another 999 call saying he had left and she no longer required police assistance.
Just under half an hour after that, her daughter called police from the house and West Midlands Police officers arrived afterwards to find Ms Bibi's body. The IPCC said Ms Bibi's second call was treated correctly in not cancelling a police response to what had been logged as a domestic incident – even though that had been requested by the caller.
The watchdog said: "(We find) that the grading of Ms Bibi's first 999 call as an 'early response incident', classified as there being genuine concern for a person's safety, was appropriate on the information she provided.
"It meant that police officers should have attended her within 30 minutes. However, no such police resource was deployed to the first 999 call logged. The thorough IPCC investigation has been unable to establish with certainty whether the cause was due to an IT failure or human error."
West Midlands Police has agreed to review its IT systems and staff training to avoid a repeat of the failings. Rezaie, 29, was sentenced to life imprisonment for the murder last year.