 British Indian entrepreneur Seema Sharma goes undercover in Mumbai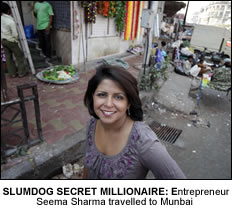 ONE of Britain's most successful entrepreneurs will go undercover in India this month in a special episode of The Secret Millionaire on Channel 4.
British Indian millionaire Seema Sharma – said to be worth £5 million – will leave behind her affluent lifestyle in the UK to go undercover in Mumbai, India's largest and most prosperous city.
The special episode will form part of the channel's Indian Winter season which will also see the television premiere of the Oscar-winning film Slumdog Millionaire.
Posing as a volunteer, Seema will take refuge in Dharavi, one of the largest slums in India where over a million people live crammed into an area of less than one square mile.
It's a far cry from her South East London home she shares with husband Sanjay and their two daughters.
Although Seema speaks basic Hindi her only knowledge of India comes from Bollywood films and five-star holidays. Now, in search of a new challenge, she'll be leaving behind her British lifestyle and flying to Mumbai, the financial capital of the country. Though central to India's economic boom, Mumbai offers a shocking disparity between wealth and poverty: over half of its thirteen million residents live in slums or on the streets. Whilst there, Seema will look for and be introduced to people who might need her help.
A spokesperson for the show said: "From the Doorstep School designed to educate homeless children, to a charity which persuades the wealthy to donate toys, Seema is confronted by truly insurmountable dilemmas in trying to decide how to give away her money in a responsible and effective way."
Slumdog Secret Millionaire, Sunday 17 Jan, Channel 4, 9pm