 Harrow Mosque prepares for rally as Police get special stop and search powers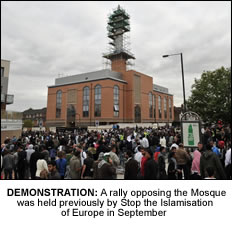 LEADERS of an anti-Muslim protest group who plan to hold a demonstration outside a Harrow Mosque this weekend have been invited for talks by the Mosque to try and "dispel their ignorance over the British Muslim community."
Demonstrators from the Stop the Islamisation of Europe (SIOE) will return to Harrow Central Mosque on Sunday – three months after it staged its first rally outside the mosque on the eighth anniversary of the 9/11 attacks.
However, they are due to be countered by members of Unite Against Fascism (UAF), who have accused SIOE of being a racist and fascist organisation.
SIOE argues the mosque is being used as a staging post for jihadists – a claim which has been branded absurd by the Mosque.
Now leaders for Harrow Central Mosque have extended an invitation to SIOE to talk about their concerns.
A spokesperson for the Mosque said: "We join with the residents of Harrow in refusing to be antagonised by outside provocation. We extend an open invitation for the leaders of the protest to meet with us and discuss their concerns and dispel their ignorance over the British Muslim community."
The Mosque has sent out an appeal to young Muslims in the area urging them not to attend the rally for fear of being provoked.
"Our message to the young people who will be attending is not to fall into the trap from those who clearly want to provoke you into an angry response," the spokesperson said.
"Foremost, our message is: if you want to help, then stay away on the day.
"We have the fullest confidence in the Police to safeguard the mosque. If you are to attend we request that you are not disruptive. We should be open, proud of our faith and behave with the correct Islamic etiquette at all times."
A large number of police officers are expected to be deployed at the rally. They will be given special stop and search powers to stop violence breaking out in the streets around the Mosque.