 Police renew appeal for information on 'brutal' murder of Nasim Jamil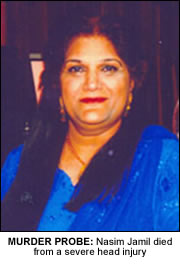 A RADIO presenter who was found brutally murdered in her home died from asevere head injury, Detectives have confirmed.
The body of Nasim Jamil, 54, was found by her daughter in her third floor flat on Byres Road, Partick, Glasgow on Wednesday 9 December.
Mrs Jamil, a widow who lived with her daughter, was a presenter on Awaz FM, a popular Asian radio station based in the city.
A statement on the stations website said they were "shocked" at the death of their colleague, adding she was a "friend and of mother to us all."
A post mortem examination revealed Mrs Jamil died from a severe head injury.
Detectives investigating her murder said they were working to establish a motive for the murder.
They said Mrs Jamil attended a doctor's appointment around 1.30pm on the day she died and are eager to speak to anyone who saw the radio presenter anytime between then and early evening when her body was discovered.
Detective Chief Inspector Louise Raphael, who is leading the investigation said: "Byres Road is always busy with shoppers, pedestrians and motorists and I appreciate that it may be difficult to remember seeing someone entering a close.  However, I am interested in speaking to anyone who saw anyone leaving the close at 128 Byres Road on Wednesday.
"Did anyone notice someone running from the area or someone behaving in a suspicious manner? It may well be that the person responsible will have bloodstained clothing. It is important that we speak to any person who could provide that little bit of information that could prove vital to our investigation."
A mobile police office has been placed on Byres Road and officers are continuing to carry out enquiries in the area.
Mrs Jamil joined Awaz FM in 2004 and fronted the 'Yadoon Ka Phool' lifestyle programme.
On the station's website, Mrs Jamil said her motivation was to "reunite broken families."
"I set this as my main goal of my program and managed to fulfil my dream," she wrote on the website.
"I re-united 5 people and this made me very happy. I love doing my program on Awaz FM and if I had another opportunity to help reunite many more families I would do it gladly."