 Victim brings Yusuf Mangera to justice 28 years after assaults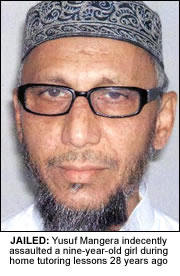 A MUSLIM tutor has been jailed today for indecently assaulting a nine-year-old girl nearly 30 years ago.
Yusuf Mangera, 52, of St Barnabas Road, North Evington was sentenced to 30 months in prison at Leicester Crown Court.
His victim, who is now in her thirties, testified against Mangera who was found guilty in October following a four-day trial.
Leicester Crown Court was told the offences dated back to 1979 and 1980 when the victim, who was nine-years-old at the time, was visited at her home by Mangera who was a private tutor.
During these lessons, Mangera would regularly indecently assault the victim when her siblings had left the room.
The police investigation began in March 2008 when the woman, now in her thirties, reported being the victim of historical indecency offences, naming Mangera as the perpetrator.
Detectives launched an investigation and over the following months Mangera was traced and then charged in January this year. 
Detective Constable Jamie Carr, who led the investigation, said: "This woman has gone through an extreme amount of distress reporting this matter to the police. Her health and stress levels have been heavily affected having to relive the events which happened to her some 28 years ago.
"She has been tremendously brave in coming forward after such a long to report Mangera for these crimes. Her courage in giving evidence in court helped secure a conviction and for that I would like to personally pay tribute to her."
Police know Mangera taught a number of children and believe there could be other victims who have not spoken out.
"We know Mangera taught several children over his time as a tutor. It is never too late for someone to come forward if they have been a victim of child abuse," DC Carr said.
"Today's sentence just shows as far as 28 years later, we can still bring someone before the courts and justice can be done for anyone else who has been a victim of similar abuse.
"We know it can be very hard to revisit something so distressing that happened such time a long time ago but please rest assured any child abuse case reported to us, whether it is recent or historic, will be dealt with by our specially trained staff who will investigate the report sensitively with full, confidential support.
 "We can only hope that this conviction will allow the victim comfort that she did the right thing by coming forward and she can now have some closure on what happened to her," DC Carr added.
If anyone believes they may have been a victim but has not yet come forward they can contact DC 878 Jamie Carr on Leicester (0116) 222 2222.