 Adam Khatib will serve minimum of 18 years in prison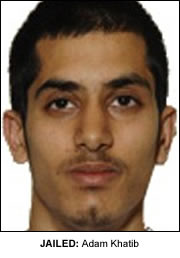 A FACTORY worker from east London has been jailed for life today for conspiring to murder innocent people in an airline bomb plot.
Adam Khatib, 23, was found guilty at Woolwich Crown Court and sentenced to a minimum of 18 years in jail.
He was part of a terrorist cell, led by Abdullah Ahmed Ali, who plotted to blow up transatlantic passenger airliners.
Assad Sarwar, Tanvir Hussain and Umar Islam were also found guilty at an earlier trial for their role in the deadly plot.
Khatib, described as a "footsoldier" by police, was arrested in his home in Walthamstow in August 2006.
Searches uncovered a handwritten list of chemical ingredients, which had his fingerprints on it. It contained all the necessary ingredients for the manufacture of home made explosives.
Another man, Nabeel Hussain, who met with Ahmed Ali Khan, just weeks before police swooped in on the group was found guilty of a terrorist offence and jailed for eight years.
When arrested a police search uncovered a will written by 25-yar-old Hussain which contemplated a violent death.
A third defendant, Mohammed Shamim Uddin, 39, of Stoke Newington, was sentenced to 15 months after being found guilty of possessing records containing information likely to be useful to a person committing or preparing an act of terrorism. He was found not guilty of two other terrorist charges.
DAC John McDowall, head of the MPS Counter Terrorism Command and Senior National Coordinator Counter Terrorism, said:
"Adam Khatib may not have known the full extent of the plan being hatched by his co-conspirators, but he certainly knew that they had murder in mind. He was a footsoldier to Abdullah Ahmed Ali and was actively involved in a conspiracy to attack innocent members of the public.
"Nabeel Hussain assisted Ali and his cohorts in preparing for acts of terrorism. Both men are committed terrorists who met Ali when he was furthering his plans to blow up transatlantic aircraft. Hussain even contemplated losing his life in an act of martyrdom and had made a Will expressing a willingness to die a violent death."