 'Land Gold Women' honoured at Asian Festival of First Films in Singapore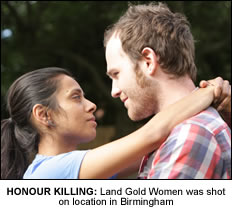 A FEATURE film said to be the first to tackle honour killings on screen has scooped two awards at the Asian Festival of First Films in Singapore.
'Land Gold Women', written and directed by India's Avantika Hari, bagged the prestigious Foreign Correspondent Association's (FCA) Purple Orchid award for Best Film and the Best Script/Screenplay award at the festival,
Shot entirely on location in Birmingham, the film follows the story of a British-Asian family caught between Eastern tradition and Western culture.
At the core of the film is the choice an immigrant Indian professor is forced to make between saving his family's name or his teenage daughter when she is found to be in an illicit relationship.
The team behind the Anglo-Indian collaboration said the film aimed to highlight the problems of forced marriage and honour crime, which affect thousands of women in Britain and across the world.
Sonia Kolesnikov-Jessop, who headed the Foreign Correspondents Association (FCA) jury for the FCA Purple Orchid Award, said the film was a "clear cut" winner.
"I've been heading the FCA jury for 4 years and usually we have heated discussions about which film should win, but this year it was clear cut," she said.
"The jury especially liked Land Gold Women because it dealt with a very controversial issue in a restrained and sensitive way, which made its message very powerful."
The star cast features Hassani Shapi who appeared in the James Bond blockbuster The World is not Enough, and Chris Villiers of Emmerdale fame.
The lead female role is played by Neelam Parmar who co-created and performed in 'Terrorist! The Musical', which was taken to the Edinburgh Fringe in 2007. 
The filmmakers worked closely with Ashram Housing Association, based in Birmingham, who deal with over one hundred cases of forced marriage every year.
Writer Avantika Hari said she was "delighted" with the awards.
Related Articles: