 Richard Leslie Dettmer jailed for murder of 'popular' newsagent Jashbhai Patel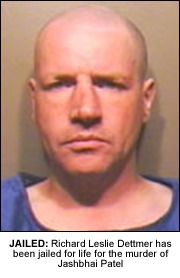 A MAN who stabbed a shopkeeper to death before stealing £20 from his till has been jailed for life.
Richard Leslie Dettmer, 39, killed popular Luton newsagent Jashbhai Patel in his Park Street shop on 14 June.
As Mr Patel lay dying in his shop, Dettmer stole just £20 before fleeing.
Dettmer was jailed for life at Luton Crown Court today on what would have been the first day of his trial after changing his plea from not guilty to guilty.
He also pleaded guilty to the wounding with intent of another man who was stabbed just hours before Mr Patel's murder.
Dettmer was told he would serve a minimum of 31 years and a half for the killing.
Detective Inspector Mike Trottman, from the Bedfordshire and Hertfordshire Major Crime Unit, said today's verdict was a relief for Mr Patel's family.
"While they may never recover from the loss of their dearly beloved husband, father and grandfather, I hope knowing they do not have to go through the pain and heartache of a trial brings some comfort to them."
"These were unprovoked and violent attacks on two men, one of whom lost his life. "Mr Patel had lived, worked and been part of a local Luton community for more than 30 years. The suddenness of what was a truly horrifying assault has left a family and community in shock. I am of course pleased that the man responsible for the assault has admitted his guilt but this is of little comfort to those who have lost a much loved member of their family," DI Trottman added.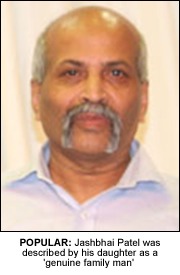 Speaking after the verdict, Mr Patel's daughter, Jaina, said her family were still coming to terms with the loss of her father.
She described her father as a "genuine family man" who was well respected within his community.
"My father came to this country from India to settle down and make a go of his life. He called this place home," she said.
"He went on to build a reputation for himself and the people of Luton knew who he was, what type of man he was and what he would do for others.
"His friendliness was priceless. He would go above and beyond for anyone, especially those who needed help. If it was snowing he would deliver papers to his customers and many were elderly and could not get out of their houses.
She added: "On the 14th of June our lives changed in a way that was unimaginable. Our lives have come to a halt and we are rebuilding it, learning to live again but things will never be the same. We will miss his life which was devoted to his family and to those who were his close friends. This was not my Dad's time to die."