 £771,000 scam saw construction boss Amarjit Singh Sidhu fund lavish lifestyle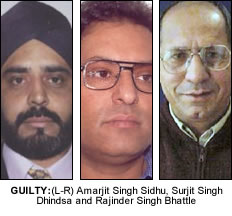 THREE members of the same family have been jailed for a total of seven and a half years for a tax fraud which saw them net over £750,000.
Construction company boss Amarjit Singh Sidhu, 49, stole an astonishing £771,000 in income tax, National Insurance and VAT which was owed to HM Revenue & Customs.
The money was used to fund a lavish lifestyle including a £1m home in Slough.
Sidhu's wife, Balwant Kaur Sidhu, cousin, Surjit Singh Dhindsa and brother-in-law Rajinder Singh Bhattle were also jailed for their part in the scam.
The group were found guilty at Reading Crown Court last month, and jailed today.
Sidhu was jailed for four and a half years and disqualified from being a company director for 10 years.
His wife, Balwant was given a 12 month sentence, suspended for 12 months, and disqualified from being a company director for five years.
Dhindsa was jailed for 20 months and disqualified from being a company director for five years, while Bhattle was jailed for 16 months and also disqualified from being a company director for five years.
The court heard Sidhu was company director for Multiple Construction Limited, a labour supply business based in Slough. In April 2004 the company transferred all of its 200 employees to another company, Tempaid Limited, run by Bhattle and Dhindsa.
The Court heard that the fraudsters created Tempaid Limited in an attempt to evade tax and reduce the VAT liability of Multiple Construction Limited.
In reality the 200-strong workforce was never transferred. Labourers were paid in cash and of the 200 employees listed on the books, 113 had fake National Insurance numbers, an investigation uncovered.
The fraud was uncovered when both companies went into liquidation in 2005.
Sentencing them, Judge G Risius CB said: "There was an element of professional planning. This was a deliberate attempt to mislead revenue investigators."
Prosecutors are now seeking to confiscate Sidhu's assets including his £1m home which was remortgaged after his arrest three years ago when he transferred £800,000 of equity to India.