 Birmingham mum hailed for dedication in helping others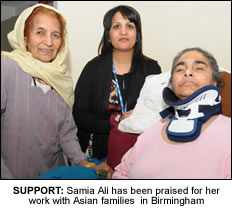 A BIRMINGHAM mother has been hailed for her dedication in supporting Asian families with learning difficulties who face language barriers when attempting to access healthcare services in the city.
Mum-of-two, Samia Ali works alongside community healthcare professionals at South Birmingham Community Health to provide service users and carers with instant translation of important information into the appropriate South Asian language, most commonly Urdu, Punjabi or Mirpuri.
Colleagues were so impressed by Samia's dedication to supporting families that she recently received NHS South Birmingham's annual 'caring with compassion' award and now further funding has been secured from the multi-agency Learning Disabilities Development Fund to secure her services for a further 12 months.
"I have qualifications in childcare and education and I was planning to become a teaching assistant," say the mum-of-two.
"But then I saw a job advert for a support worker who could speak South Asian languages and, although I didn't have any professional experience in healthcare, I had plenty of personal experience of caring for people with learning disabilities as my sister Samina has a disability.
"It's a really rewarding role because, in many cases, the families I work with just don't know what services are out there so my role is to make sure they're better informed.
"Sometimes that means translating what a clinical colleague is telling them; other times it's actually travelling with them for an appointment or a hospital admission."
Jacqui Atkinson, clinical physiotherapy manager for people with learning disabilities, said: "Samia has really gone the extra mile for people whose need for support is greater because the challenges presented by their disability are compounded by the language barriers they encounter when accessing care."