 'Ironman' Manjit smashes world record with hair-raising attempt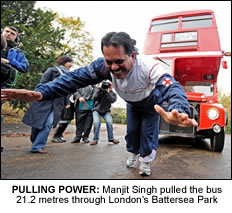 LEICESTER'S very own 'Ironman' Manjit Singh, has gabbed himself a Guinness World Record after pulling a seven-ton bus with his hair through London's Battersea Park.
The 59-year-old celebrated Guinness World Record Day in style after pulling the bus a phenomenal 21.2 metres.
The feat was even more remarkable considering the bus was attached via a clamp to his thick ponytail.
The Leicester security consultant admitted "it was painful, but worth it."
Manjit's victory was sweeter following a failed attempt two years ago to pull a double-decker bus with the ears. But disappointment then drove the 59-year-old on.
After the event he said: "It was painful, but it was worth it. I could only think about my legs and head and keeping on going to set a record, to go as far as I could."
"I will never be discouraged by defeat, because I know that success can be waiting around the next corner," he said.
"The only way to get there is to try again and stay positive."