 Aamir Iqbal sentenced to five years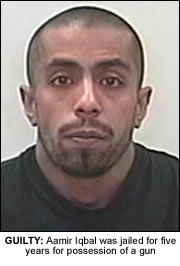 A BRADFORD man who was caught hiding a gun in his flat has been jailed for five years.
Aamir Iqbal, 29, was arrested in April 2008 after officers found a semi automatic 9mm handgun following a search of his flat on Leeds Road.
Iqbal pleased guilty to possessing a firearm saying he was looking after the handgun for someone else.
But his story was rejected and he was jailed for five years.

Detective Inspector Craig Lord said: "This sentence shows that anyone being caught with a firearm will be dealt with severely. We now have a dedicated team at Bradford South division specifically for investigating firearms incidents. We will investigate all firearms offences vigorously and will not tolerate guns on the streets of Bradford. I would appeal to anyone who knows someone who has an illegal firearm to contact Police."