 Meat destined for Kebab shops in east London destroyed by health officials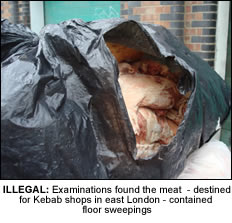 HEALTH officials in east London have destroyed a quarter of a tonne of illegal meat which was found to have contained floor sweepings.
The meat, destined for kebab shops, was seized by officials from Waltham Forest Council after they spotted a man unloading it from the boot of his car.
Further examination showed the meat consisted of lamb fat, mixed with old and broken pitta breads, and material which appeared to be floor sweepings. 
There were no health marks and there was no record of where the meat had come from.
When questioned by the officials the man told them the meat was to be mined for kebabs before he ran off.
The council has now disposed of the meat.
Waltham Forest Council's Cabinet Member for Community Safety, Enforcement and Protection, Cllr Afzal Akram, said: "This shows a callous disregard for the health and wellbeing of residents and I am appalled that some traders think it is appropriate to make kebabs out of poor quality meat, mixed with the sweepings of their floor and old pitta bread.
"I am just relieved that our environmental health officer was able to recognise the potential risk and take swift action to minimise the danger to residents."