 Slumdog Millionaire to be shown on world largest cinema screen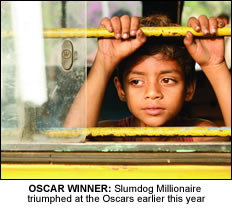 OSCAR winner Slumdog Millionaire will be screened on the world's largest cinema screen this weekend at the iconic Pinewood Studios.
The film, which notched an incredible eight Oscars earlier this year, has been selected as part of Pinewood Studios Drive-In movie series.
The studio's outdoor water filming facility has been transformed into the world's largest cinema screen honouring some of the movie world's greatest films.
The Drive-In movie series allows ardent moviegoers the chance to experience the thrill of watching their favourite films in the comfort of their own cars. 
The series kicked off on the weekend with screenings of Mission Impossible, Eyes Wide Shut and Mamma Mia.
Other films selected for the series include Gladiator, Harry Potter and the Prisoner of Azkaban and Superman.
The series will screen films every weekend until 6 December.
Andrew Smith, Corporate Affairs Director for the Pinewood Group, said: "Both Pinewood and Shepperton have played a part in some of the most iconic feature films ever made and we're delighted to be able to showcase these in such a spectacular way for the British public to enjoy."
Slumdog Millionaire will be screened on Saturday 14 November at 20.45
Do you want to be part of the action? Win a Car Ticket to see Slumdog Millionaire on the world's largest cinema screen this weekend! Click here to enter