 City help for mums a success after year trial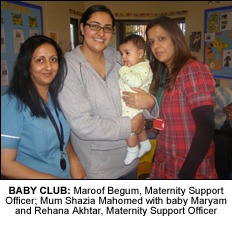 A NEW initiative to help new mums cope with the challenges of motherhood has been given the thumbs up.
For the last year Sandwell and West Birmingham Hospitals NHS Trust community midwives have worked in partnership with Community Outreach Family Support Services (COFSS) to provide a Baby Club for the mums of Aston.
The club, which meets every Thursday lunchtime, is available for all women in Aston who have babies up to a year old.
Mums get the chance to meet with midwives and other mothers to talk about the challenges of motherhood.
Mum Shazia Mahomed said the club had helped her a great deal since the birth of baby Maryam five months ago.
"This is my third time here and I thoroughly enjoy attending," she said.
"These sessions give me a chance to ask any questions I may have in a friendly and informal environment. It is great to meet other mums and share our experiences and the topics that are presented to the group are very informative and useful."
Maternity Support Officer from Sandwell and West Birmingham Hospitals NHS Trust Maroof Begum said the club had become extremely popular.
"It is a very popular session and the topics discussed are always topics that mums from the Aston area want to learn more about," she said.
"There are always lots of smiles and chatter in these sessions and it is a great support group for mums of the Aston area."
The Baby Club has been trialled in the Aston area and it is hoped that the Community Outreach Family Support Service will extend this service into other areas of Birmingham after the success of the club in Aston.