 Police hunt Asian man after attack is caught on CCTV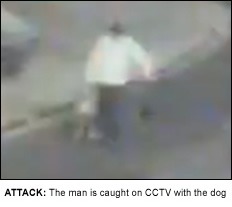 POLICE in Birmingham are hunting an Asian man who tried to strangle his dog moments after it attacked a four-year-old boy in a city park.
The incident, which occurred on Saturday 26 September in Washwood Heath Park, was caught on CCTV cameras. Police believe the dog was eventually killed by the man.
Today detectives released CCTV footage of the incident and appealed for witnesses to come forward. The attack happened at around 7:15 pm on Saturday September 26.
The man was walking his dog, described as a brown pitbull type, through the park without a lead.
It approached a group of young children playing and attacked the four-year-old boy, leaving him with puncture wounds to his head.
The dog then ran back to its owner who then appeared to strangle the dog and try to put it in a bin bag before leaving the park.
The dog owner is described as Asian, approximately 5'10", in his mid 30's and dressed in a cream hooded jumper and blue jeans.
An ambulance was called to the scene and the little boy was treated for small puncture wounds to his head. He was treated at hospital and released the same night.
Sgt Alan Hands, from Nechells Green police station, said: "This was an horrific incident. It was terrifying for the little boy who was attacked and bitten by this dog which was not properly controlled on a lead.
"When it returned to the owner he appeared to destroy the dog with no regard for those who witnessed his actions or the animal itself without checking to see if the child was hurt.
"He is clearly not a responsible pet owner in any regard and we would urge anyone with information to contact police."
Anyone with information is asked to call police at Queens Road Police station on 0845 113 5000, or e-mail the Washwood Heath East Neighbourhood Policing Team on washwoodheatheast@west-midlands.pnn.police.uk