 'It would be amazing to see the World Cup in Birmingham', says Jaz Dhami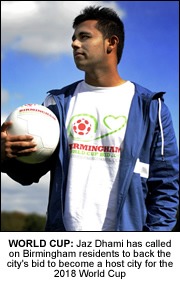 A BIRMINGHAM raised Asian music star turned FA coach is backing the city's bid to be a host city for the 2018 World Cup.
Popular music star Jaz Dhami is hoping his backing will help drum up support for Birmingham's bid to become a host city should England be awarded the coveted tournament.
As one of sixteen cities vying to be selected as a host city for the official England World Cup 2018 bid, Birmingham has until the 6 November to submit an official bid to the FA outlining its facilities and plans for the World Cup.
And with votes from members of the public counting towards the city's chances of being selected, now really is the time to back Birmingham's bid.
Jaz who volunteers in coaching with the Birmingham FA's Aston Football Club said: "I am fully in support of backing Birmingham's bid to be a host city for the World Cup 2018 and I encourage everyone to log onto
www.backthebirminghambid.com
and vote to back our city."
Birmingham's bid is built on a strong partnership with Aston Villa FC, using Villa Park as the stadium venue and the city's other football clubs – Birmingham City and West Bromwich Albion – providing training grounds and camps.
There would also be four team base camps in the region where national teams would stay for the duration of the tournament.
The NEC would become the site of a National Fan Park and there would be another Local Fan Park at Cannon Hill Park. The city's iconic buildings and venues would also be used for other major elements of the competition such as the official Tournament Draw and there would be a host of 'live' sites from to watch matches.
Jaz said it would be "amazing" to see the World Cup at a city which prides itself on its multi-culturalism.
"To see the World Cup heading to the city would be an amazing achievement and will go us the opportunity to showcase to the world what Birmingham offers in terms of our multi-cultural make up, exceptional infrastructure and tremendous passion for football," Jaz said.
"I have a huge passion for sports and to see the greatest sporting event on our doorstep would be amazing which is why I am encouraging everyone to come together and unite as one and back our city's bid to be a host city for the 2018 World Cup."