 Boxers meet for first time ahead of December title fight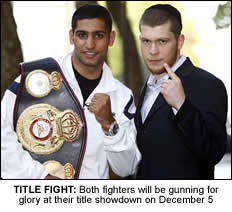 AMIR Khan and Dimitriy Salita embarked on a hectic media tour yesterday to promote their December 5 fight.
The pair will meet in Newcastle in seven weeks time for the first defence of Khan's WBA light-welterweight title.
He won the belt with a landslide points win over Andreas Kotelnik in July.
Now the 22-year-old will put the belt on the line against mandatory challenger Salita.
The New Yorker is undefeated in more than 30 fights, but is yet to meet anyone of Khan's quality.
Salita flew in from the States this week, and on Thursday morning joined Khan in Newcastle.
Both camps then caught an express train to London, where a further press conference was held.
There was plenty of mutual respect, a repeat of the good will the pair shared on a phoneline last week during a conference call.
"He's a great fighter, he's a great boxer," Khan said. "I don't know much about his amateur background but to be a number one mandatory, he must be good, and his record says it all.
"I know Dimitriy is going to come into this fight wanting to win this world title so it's going to be tough. I'm going to go in there and give it 110%.
"I want to keep hold of this belt. I worked so hard to achieve it and I'm going to work even harder to keep hold of it."
However Salita was equally as confident, saying: ""There's no doubt that this is the biggest fight of my career. I'm very excited about it.
"I'm just focused on doing what I need to do. We did a teleconference last week and all the English writers were asking about his next fight. As far as I'm concerned there will be no next fight.
"Amir won't be defending his title. I'm coming to take it. I have a lot of respect for Amir, he's a great boxer and Freddie's a great coach, but I'm focused on doing what I need to do."
Related Articles: