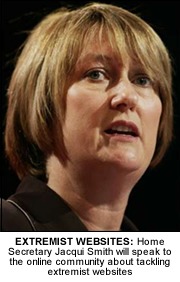 THE GOVERNMENT will target extremist websites that attempt to radicalise young British Muslims as part of a new campaign announced by Home Secretary Jacqui Smith today.
In a speech at the International Centre for the Study of Radicalisation and Political Violence, the Home Secretary said Britain had to "accept that more people are showing sympathy with the cause of violent extremism".
In her first major speech on the subject, she revealed that she would be organising meeting with members of the online community to decide on the best ways to crack down on al Qaida-inspired sites.
Illegal material will be tracked down and removed, using tactics already deployed against online paedophiles, she said.
"If we are ready and willing to take action to stop the grooming of vulnerable young people on social networking sites, then I believe we should also take action against those who groom vulnerable people for the purposes of violent extremism," Ms Smith said.
"In the next few weeks, I will be talking to industry and critically to those in the community about how best to do this, how best to identify material that is drawing vulnerable young people into violent extremism.
"Where there is illegal material on the net, I want it removed."
But her political rivals hit back saying the Government should have acted sooner on such proposals.
Baroness Neville-Jones, the Shadow Security Minister said: "The announcement has come much too late. The Government started talking about tackling radicalisation as far back as 2003, but since then we have had the 7/7 terrorist attacks and as far back as 2004 the Prime Minister's Delivery Unit said that 'Forward planning is disjointed or has yet to occur'. Why has it taken so long for the Government to organise its response to this serious issue?"
She added: "The Government should also realise that the only thing they have been pre-occupied with – extending pre-charge detention – actually risks radicalising young Muslims and serving as a recruiting sergeant for terrorists."