 Bodrul Islam slams MP Jim Fitzpatrick over wedding walkout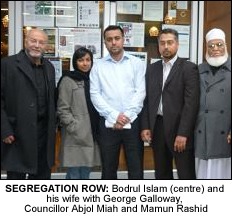 A MUSLIM groom whose wedding became national news when a MP walked out in protest over the segregation of male and female guests has joined the Respect Party.
Bodrul Islam said he was still angry at the actions of Government minister Jim Fitzpatrick who stormed out of his wedding at the London Muslim Centre in August when his wife was asked to sit in a separate room.
The incident snowballed after Mr Fitzpatrick, Minister for Farming and the Environment, spoke about the episode in the media.
Announcing his decision to join the Respect Party, Mr Islam said he would now offer his support to Respect MP George Galloway who is looking to replace Mr Fitzpatrick as the MP for the East London borough, Poplar and Limehouse, at the next election.
"He [Fitzpatrick] likened my wedding to the racial segregation, the apartheid, of the Deep South. I am disgusted at this degenerate politics and these insults," said Mr Islam.
"The Respect Party is the only party standing up against racism and prejudice and I am pledging my support for George Galloway."
Mr Fitzpatrick faced calls to resign following the episode in August.
He accused the Islamic Forum of Europe, which has links to the London Muslim Centre where Mr Islam held his wedding reception, of having a "stranglehold" over the centre.
Speaking about the incident at the time, Mr Fitzpatrick said: 'The segregation of men and women didn't used to be as much of a strong feature. But it is an indication of the stricter application of rules that is taking place that didn't exist before. It is a disappointment. I think the stranglehold influence of the IFE is present more than ever before. We are trying to build social cohesion in a community but this is not the way forward."
Mr Islam insisted the couple had chosen to have their reception segregated to show "respect" to elder members of their families and were not influenced by any other group.
He added a family member had spoken to Mr Fitzpatrick shortly after he left the venue with his wife asking them to come back, but the MP declined and insisted he was not offended.
Mr Islam said his family were "upset and disappointed" that the MP had taken his grievances to the press and not contacted the family.
Earlier this month Mr Fitzpatrick held a press conference in his constituency denying he was Islamophobic after an alleged petition calling for his resignation was distributed amongst his constituents.
Related Articles: