 Mohammed Patel sentenced to four and a half years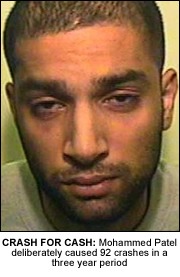 THE man at the heart of a so-called 'crash for cash' scam has been jailed.
Mohammed Patel, 24, of Nottingham Drive, Bolton, was jailed for four and a half at Manchester Minshull Street Crown Court after admitting 17 charges, including conspiracy to defraud, dangerous driving and disqualified driving.
Over the course of three yeas Patel was believed to have caused 92 deliberate accidents. On each occasion he would lead the other driver to believe they were at fault.
Twenty-four other people are also due to be sentenced for their role in the scam.
The police investigation, supported by the Insurance Fraud Bureau, exposed a scam that could have led to an exposure to insurers of millions of pounds.
The court was told Patel's scam began to unravel in 2005 when workers at an office block at the Eden Point roundabout on the A34 in Cheadle became suspicious at the alarming regularity with which collisions were taking place at the same spot on the roundabout.

They noticed the collisions were always at low speed, and often, the same man was driving.

AXA insurance, one of the companies affected by the scam, investigated a number of the claims and in January 2008, the findings were passed over to Greater Manchester Police.

The investigation revealed Patel deliberately caused collisions for whichever client was willing to give up his car keys and insurance details. He would be paid a fee while the claimants demanded compensation for personal injury, courtesy cars and legal fees at the expense of the other party's insurers.

In some instances, the damage to the cars being used was fabricated, and on occasions exaggerated.

From his earnings, Patel treated his girlfriend at the time, Ettorina Hay, to a number of gifts, including cash, two luxury cars and foreign holidays.

Sergeant Mark Beales, from the Specialist Operations Branch, who has led the police investigation said: "Patel was prepared to put lives in danger to make money. This abuse of the insurance claims system has implications for all law-abiding road users.

"I have no doubt that people driving on the roads of Greater Manchester are safer with this individual behind bars.

"The message is clear to anyone who thinks they can earn a living from a life of crime. There is nothing glamorous about being behind bars.

"We will pursue not only criminals like Patel, but those who have also benefited from his criminality, such as Ettorina Hay, who turned a blind eye to what paid for the luxurious life she enjoyed."
Patel and Hay now face proceedings under the Proceeds of Crime Act.