 Sami Mahmoud Salama branded 'vicious and callous'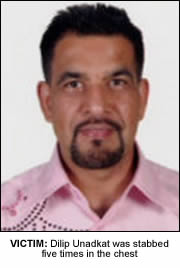 AN illegal immigrant who stabbed a man to death in his own home and then covered the body with moisturiser in a bid to destroy DNA evidence has today been jailed for life.
Sami Mahmoud Salama, 37, was branded a "vicious and callous" murderer for killing 48-year-old Dilip Unadkat in the bedroom of his flat in Alexandra Court, in Empire Way, Wembley.
He stabbed Mr Unadkat, a retailer, five times in the chest before ransacking his victims flat and fleeing with cash and thousands of pounds worth of gold jewellery which Mr Unadkat had recently brought back from a trip to India.
Salama, who was found guilty by a majority verdict at the Old Bailey following a four week trial, will serve a minimum of 27 years before being deported.
Another man, 27-year-old plasterer Ahmed Mahmoud Ahmed El-Shubrawy was found not guilty of murder.
Detective Sergeant John Hughes, of the Met Homicide and Serious Crime Command said Salama had used his victim "for whatever he could get his hands on."
The court heard Mr Unadkat was found dead in the early hours of 27 November last year after police officers forced entry into his flat following concerns from family members.
Mr Unadkat had been stabbed five times in the chest and his body covered with moisturiser in a bid to destroy DNA evidence.
The murder weapon – a bloodstained 5" kitchen knife was found lying next to him.
The court heard Salama, who befriended Mr Unadkat just months before the killing, was arrested by detectives in Birmingham two weeks after the murder. At the time of his arrest he was wearing a watch and using a mobile phone with both belonged to Mr Unadkat.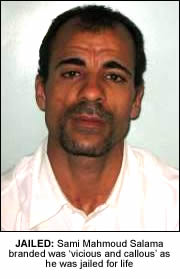 Another man, El-Shubrawy, who was subsequently cleared of Mr Unadkat's murder, was also detained at the same time.
When officers searched the two men's homes they found a large quantity of cash believed to have been the proceeds from pawning Mr Unadkat's gold jewellery.
Speaking after the verdict, Det Sergeant John Hughes said Salama exploited his victims "good nature".
'Mr Unadkat died at the hands of a man who blatantly used the victim for whatever he could get his hands on. Salama saw an opportunity to befriend Mr Unadkat and exploit his good nature," he said.
"He visited his home and stabbed him to death then stole a quantity of cash along with expensive Indian jewellery of a sentimental value and personal belongings.
"The family and friends of Mr Unadkat throughout this trial have had to endure hearing some distressing details of how their loved one was killed. I pay tribute to each of them for their strength and integrity throughout and for supporting the major investigation team."