 Fellowship of the British Science Association for Professor Salim TS Al-Hassani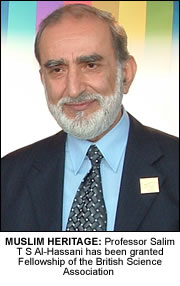 A LEADING British engineer has been granted Fellowship of the British Science Association for his work to promote the scientific and technological achievements within Muslim cultures.
Professor Salim T S Al-Hassani, of Manchester University, has spent the last two decades debunking the myth of "The Dark Ages" by raising awareness of the scientific achievements that took place in India, China, Muslim Spain and the Middle East between the 7th and 17th centuries.
Every year the British Science Association bestows Honorary Fellowship upon individuals who have "promoted openness about science in society" and "engaged and inspired adults and young people with science and technology".
Previous recipients have included BBC TV presenters Sir David Attenborough, Prof. Jim Al-Khalili and Prof. Robert Winston.
Prof. Al-Hassani is best known as Chief Editor of the book '1001 Inventions: Muslim Heritage in Our World', which highlights a thousand years of social, scientific and technical achievements that are currently under-recognised in schools' textbooks. The Professor recently announced plans to distribute 3000 copies of the book to UK schools free of charge.
"It is a great honour to be recognised by the British Science Association as an Honorary Fellow," he said.
"Science crosses all cultural and religious boundaries and researching the roots of modern science has highlighted to me the great debt we all owe to people of many creeds and colours. How true was Isaac Newton when he remarked that if he had seen more than others it was because he was standing on the shoulders of giants. I'm grateful for the opportunity to bring this message to the public, and humbled that the BSA has recognised my work in this way".
Speaking at the award ceremony, Lord May, President of the British Science Association, said: "Prof. Al-Hassani's interest in the history of science and technology, and specifically within Muslim cultures, has earned him a worldwide reputation. He was instrumental in the development of the '1001 Inventions' Exhibition and educational materials about the contributions of scientists and technologists working within Muslim cultures."