 Brit star makes history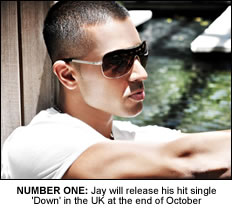 BRITISH Asian music star Jay Sean is reigning supreme in the American charts after knocking the Black Eyed Peas off the top spot in the Billboard chart.
The Hounslow-born singer ended the Peas historic 26-week reign at the top of the charts with his debut US single 'Down' which features popular American rapper Lil' Wayne.
The single had so far sold a massive 1.5 million copies – making Jay
the first male British urban artist to have a number one single in the US.
Jay, who was snapped up by American record giant Cash Money a year ago, described the huge success of the single as "insane".
"
It's just incredible to have reached No.1 with my first release in America. It's difficult for me to put into words. This is insane," he said.
"My head is spinning. I've been grinding hard for the last seven years releasing records independently and now to have the biggest record in the USA this week, it's just a dream come true."

The last British male artist to hit the top ten in America was James Blunt in 2006.
'Down' has also seen Jay claim the rights for the biggest hit single for a British urban act in the US since Soul II Soul twenty years ago.
And now the singer is expecting the same success here in the UK when the single is released at the end of the month.
Jay achieved his last highest UK chart position in 2004 when his single 'Stolen' peaked at number 4 in the charts.
But with 'Down' already gaining significant airplay across radio stations here in the UK, the singer can expect a new 'personal best'.