 Brit star becomes most successful male UK urban artist in US chart history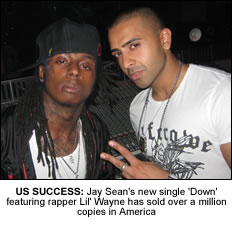 BRIT-Asian star Jay Sean has conquered America after becoming the most successful male UK urban artist in US chart history.
The fete is all down to his current single – Down – which features popular US rapper Lil' Wayne.
The single, which is set to be released in the UK at the end of October, has held the Number 2 slot on the Billboard chart for the past six weeks.
And with an increase in airplay it is expected to knock the Black Eyed Peas off the top spot in the coming weeks.
It has already sold over a million copies in the States giving the singer his first Platinum status hit.
Another song featuring the Hounslow singer – 'Written On Her' by Cash Money CEO Birdman – is also climbing the Billboard chart meaning the star can boast a duel entry.
"If you have some good music, you can make it anywhere," Jay told BBC News.
"I'm very blessed that it got off to a flying start and it's been doing crazy things over the last couple of months. I want to do my best to represent the UK in America and let people really understand that it doesn't matter if we're from a little place called Hounslow.
"As long as you work hard and strive to do you best and make good music, and of course with a bit of luck, it is possible," he added.
Jay's rise across the pond comes almost a year after he became the first UK artist to sign for Cash Money.
The move came as he enjoyed chart success in the UK with his second album 'My Own Way'.
Jay had expected to re-work the album for an American release earlier this year, but reports have suggested a whole new batch of songs have been recorded for the album – titled 'All Or Nothing' – which will be released in November.