 33 years for mum who stabbed daughters to death as they slept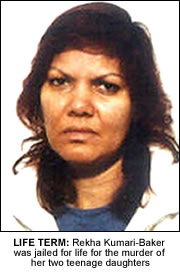 A MOTHER who killed her two daughters has today been jailed for life.
Rekha Kumari-Baker, 41, was told she must serve a minimum of 33 years for the murders of her daughters Davina, 16, and Jasmine, 13.
She was found guilty of killing the teens at Cambridge Crown Court yesterday.
Kumari-Baker admitted killing the girls in June 2007 but denied murder on the grounds of diminished responsibility.
But a jury took 35 minutes to find her guilty of murder.
Cambridge Crown Court was told Kumari-Baker stabbed her daughters more than 60 times as they lay sleeping in their beds in The Crofters, Stretham, near Ely on June 13, 2007.
In court she was accused of murdering her daughters to "wreak havoc" on her ex-husband David Baker.
It was also claimed she was struggling to come to terms with the breakdown of her relationship with her boyfriend Jeff Powell.
In a hand-written note left at the murder scene, Kumari-Baker wrote: "Sorry doesn't mean anything now I killed my 2 beautiful daughters. I didn't want them to get hurt like I did. Jeff hurt me so much I cannot explain."
Detective Inspector Jim McCrorie, senior investigating officer, said the case had taken its toll on police officers and staff members who "saw some of the most harrowing sights in their careers."
He said "it became clear" as the investigation progressed that Kumari-Baker has "set out to murder her children" , and that "only she will know the real reasons why she carried out such a vicious and deliberate attack as they lay sleeping in their beds."
He added: "Davina and Jasmine were innocent young teenagers who were killed by the person they should have been able to trust most in this world."