 Sayed Raza convicted in his absence in deaths of father and son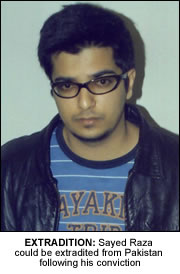 A STUDENT who was on police bail when he fled to Pakistan following the deaths of a father and a son in a road faces extradition after being convicted of dangerous driving.
Sayed Raza, 27, was not in court when he was convicted of two counts of causing death by dangerous driving in April 2007.
Michael Phillip Rowley and his 14-year-old son Jonathan Michael Rowley, died after Raza crashed his Vauxhall Corsa into the pair's motorcycle on the A631 north east of Gainsborough, Lincolnshire on April 20.
Raza, who was in the UK on a student visa, was allowed to return to his home country to attend to his sick mother despite being on police bail.
Numerous attempts by Lincolnshire Police to bring Raza back to the UK failed with police even issuing a £516 ticket to make sure he would be present at the start of the trial.
Officers travelled to Heathrow Airport, in west London, to meet the flight only to find Raza had not boarded the plane.
The former Lincoln University student could now face extradition charges to make sure he serves his sentence in a UK prison.
Sergeant Dave Kay, Senior Investigating Officer said Lincolnshire Police would work with the Crown Prosecution Service to try and bring Raza back to the UK.
"This has been a long and difficult investigation and I pay credit to the family who have shown great dignity and patience for the last 2 and a half years following the tragedy," he said.
"I am disappointed that Mr. Raza did not return to the United Kingdom for his trial, having gone to a great deal of work to secure his attendance at court. I personally want to thank the investigation team and the Pakistani Authorities, Pakistani Airlines and the UK Border agency for their assistance in this case. We will now be working with the CPS to look at how we can bring about his return to the UK to serve his sentence".