 Rani Mukherjee brings 'Hadippa' to the Capital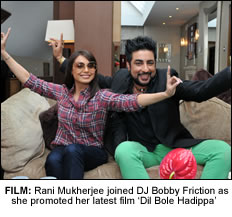 BOLLYWOOD actress Rani Mukherjee was in London yesterday to promote her latest film.
The actress jetted into the capital just hours after she attended the world premiere of her new film 'Dil Bole Hadippa' in Toronto.
Mukherjee plays Veera Kaur in the film who is forced to pretend she is a man in order to fulfil a lifetime ambition of playing professional cricket.
The film, which also stars Shahid Kapoor, is being released by Yash Raj Films.
The actress fronted a press conference at the Courthouse Hotel in Central London where she spoke to radio DJ Bobby Friction about the forthcoming film.
"The film has all the things Bollywood has to offer including song, dance, emotion, drama, romance and comedy but me being a man is something new Bollywood has to offer," the actress said.
"The subtle point of the film is if you dream and are passionate about what you want to be in life, you can go to any lengths to achieve that and that is what my character is about."  
Avtar Panesar, Vice President of International Operations for Yash Raj Films, paid tribute to the actress saying she had done a "brilliant job of playing such a challenging role."
'Dil Bole Hadippa' will be released worldwide on 18 September.