 Pakistan all-rounder sets the record straight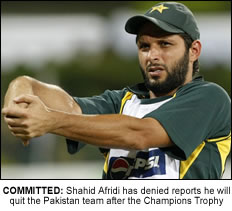 RUBBISHING reports of a planned retirement if he fails to do well in the upcoming Champions Trophy, Pakistan's flamboyant all-rounder Shahid Afridi today said he would never put his career at stake for just one tournament.
There were reports in the media yesterday that Afridi was planning to retire if he did not do well in the Champions Trophy but the all-rounder said there was no such thought on his mind.
"I never said anything about even thinking about quitting the game. The Champions Trophy is a tough tournament and we will be trying to put in our best efforts," he said.
Afridi, who has played in 26 Tests, 281 one-day internationals and 24 Twenty20 matches for Pakistan, said he was determined to do well in the Champions Trophy which starts on September 22.
"I know one can't be successful all the time in every match. So there is no way I am going to put my career at stake in one tournament. Like a professional cricketer I want to do well in the Champions Trophy but not retire if I am unsuccessful," he said.
"I have had bad patches in the past and I have successfully overcome them. Till I am enjoying the game and playing for my country, I want to carry on," he added.
Pakistan will play Sri Lanka in a warm up match on 18 September before kicking off their Champions Trophy campaign against the West Indies in Johannesburg five days later.