 Recognition for Wolverhampton-born Sathnam Sanghera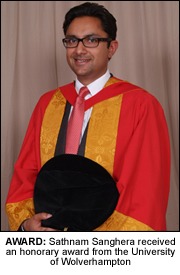 AWARD-winning journalist and author Sathnam Sanghera has received an honorary award from the University of Wolverhampton.
The author of The Boy with the Top Knot was presented with an Honorary Degree of Doctor of Letters at a ceremony On Tuesday 8 September. 
The award was made in recognition of Sathnam's contribution to journalism, for which he has received numerous awards
Sathnam gave a speech at the ceremony at Wolverhampton Grand Theatre, in which he offered advice to graduates who were receiving their degrees yesterday.
 He said: "The hardest thing in life is to work out what you want to do. Once you have worked that out, it is relatively easy to do."
Sathnam was born to Punjabi parents in the West Midlands in 1976 and attended Wolverhampton Grammar School and Christ's College, Cambridge.
 His first book, The Boy with the Topknot: A Memoir of Love, Secrets and Lies in Wolverhampton, was shortlisted for the 2008 Costa Biography Award and the 2009 Mind Book of the Year.
Sathnam worked as a news reporter at The Financial Times in the UK and US between 1998 and 2006, before joining The Times in 2007.
He has been awarded numerous awards for journalism, including HR Journalist of the Year in the 2006.