 Man assaulted days after Pensioner killed in Tooting, south-west London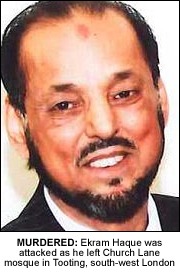 A RACE attack on a Muslim man just days after a pensioner was killed as he left a Mosque in the same London suburb are not being linked, police have said.
A 30-year-old Asian man was attacked by a group of youths as he left a Mosque in Tooting, south-west London, on Tuesday evening.
The man was assaulted with a weapon and suffered head injuries as he left Gatton Road Mosque.
Police are treating the attack as a race hate crime, but have stressed there is no evidence linking it to the murder of 67-year-old Ekram Haque.
Mr Haque was subjected to a vicious attack as he left Church Lane mosque in the same area on 31 August.
The devout Muslim was with his three-year-old granddaughter when he was attacked. He suffered fatal brain damage and died a week later in hospital.
Mr Haque's son, Arfan, paid tribute to his father describing him as a "gentle giant".
Mr Haque said: "He was like a brother to me sometimes – my best friend, just such a loving individual.
"I am so devastated. I had so much respect for him."
Two boys aged 14 and a 15-year-old have been charged with Mr Haque's murder. All three are due to appear at Sutton Youth Court on 6 October.