 Contest looks to launch winner Reena Patel into Bollywood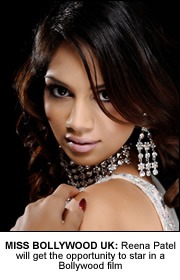 A BRITISH Asian beauty will be whisked off for a Bollywood role after being crowned the first ever Miss Bollywood UK at a gala event in Birmingham.
Reena Patel, from London, beat off 14 rivals – whittled down from a long list of 900 – at the star-studded event to be crowned Miss Bollywood UK. The title also comes with the offer of a Bollywood role and a year's modelling contract.
The runner up was Simran Chadha from Manchester whilst third place was taken by Stacey Fox of Essex in an ethnically diverse contest held at the prestigious International Convention Centre (ICC) in Birmingham.
Judges included Bollywood actress Manisha Koirala, Miss Universe UK Lisa Lazarus and fashion designer Rohit Verma.
Patel, 23, now waits to be flown off to India to live the life of a Bollywood celebrity and will be automatically entered into the finals of Miss Universe Great Britain which will give her an opportunity to compete for the title of Miss Universe.
"The appeal in Bollywood is the song and dance, the glamour, the people – it is after all the largest film industry in the world," Choudhury said.
"Suddenly we've got this cross-over between Hollywood and Bollywood which adds to the authenticity of the Indian film industry. It's an exciting time to be part of Bollywood."
"We wanted the contest to be as diverse as possible and attract contestants from all diverse backgrounds, which reflect Britain today," Kully Kaur director of Miss Bollywood UK, said.
Patel follows the success of Liza Lazarus, a Welsh beauty that scooped the Miss Universe UK title last year, and then found herself starring with Salman Khan in the period drama "Veer".