 Victim shot twice in the body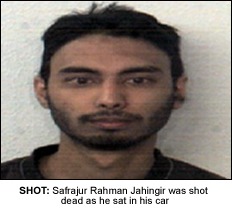 THREE Sheffield brothers have been charged with murdering a takeaway delivery driver who was shot dead in South Yorkshire.
Safrajur Rahman Jahingir, 23, was hit twice in the body as he sat at the wheel of his car in Parson Cross, Sheffield, on Friday.
Brothers' Mohim Khan. 36, Mukid Khan, 33 and Munaim Khan, 28, all from Sheffield have been charged with conspiracy to murder.
Police are still appealing for witnesses.