 Surjit and Balvinder Dhillon named as one of UK's top franchisees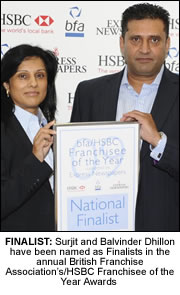 A MARRIED couple from Birmingham have been named as Finalists in the annual British Franchise Association's/HSBC Franchisee of the Year Awards.
Surjit and Balvinder Dhillon, who run a mobile phone franchise, are now hoping to scoop the top title and a cheque for £5,000, courtesy of HSBC Commercial Bank.
The duo are hoping to come out on top when the winner is announced at a black-tie dinner at the International Convention Centre in Birmingham, on 1st October.
Three years ago an advert for the O2 franchise in Northfield shopping centre in Birmingham was all the couple needed to embark on a new career that has seen them achieve extraordinary results.
Now one of only two franchisees operating five stores in the network, Surjit and Balvinder have seen their annual turnover significantly increase.
The couple have embraced the O2 vision of 'turning customers into fans' and their success is exceptional. It is due, says Balvinder, to a combination of "resources, support, commitment, determination and efficient cash flow management."
That, and the support of their family, has enabled them to achieve remarkable progress in spite of these challenging times.
HSBC's Head of Franchising, Cathryn Hayes, said: "Surjit and Balvinder from O2 Birmingham are an excellent example of how the determination and hard work of the franchisee, combined with the franchisor's supportive approach, generates success at both individual and network levels, even during a challenging economic climate."