 Family of murdered cabbie in fresh plea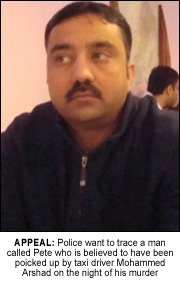 THE family of murdered taxi driver Mohammed Arshad today urged the killer to hand himself in to the police.
Mr Arshad's brother-in-law Mohammed Sheraz Hussain said that he was sure that the killer was now regretting his actions.
He said: "What can cause one human being to stab another and brutally kill them? Whatever the motive was, whoever did this is going to be feeling that it was a big mistake. He is not going to be feeling very good within himself right now.
"We would urge him to save everyone a lot of time, trouble and further grief to the family by owning up to what he has done and handing himself in to the police."
Mr Hussain said that the family was still trying to come to terms with Mr Arshad's death.
He said: "Arshad can't come back and as a family we can't get over losing him. The question we are asking is why, why has this happened?"
A funeral service was held for Mr Arshad at a mosque in Small Heath, Birmingham, on July 24, the day after he died. Following post mortem examinations clearance was given for the body to be flown back to Pakistan for burial at the earliest opportunity in line with his family's wishes and religious considerations.
Mr Hussain said that the mourners included local people Mr Arshad had helped including a man who had been sent money to go on a holy pilgrimage, another who had had a heart bypass operation financed, and a family whose daughter's wedding had been paid for by him.
"There has been so much talk about Arshad as a victim that his personality has been largely overlooked. He was a law abiding citizen, a hard-working family man and a good son, husband and father," he added.
"He was also extremely generous and a gentleman in all respects. He was telling me shortly before his death about picking up a woman and young child in his taxi and taking them to Cotteridge, Birmingham. The woman didn't have any money with her to pay her fare or go shopping so Arshad lent her £20 from his own earnings.
"She paid him back the next day but he took a risk, not knowing whether he would get his money back. That was the kind of caring person he was."
Mr Hussain has also worked as a taxi driver and revealed that he had casually discussed with his brother-in-law being out on the road and the risks they faced.
"Arshad hadn't had any problems himself and his great sense of humour obviously helped him and that made him special. He always said that if someone tried to rob him he would hand over his keys and money as he had his family to consider.
"It was meant to be a joke but his actual words were 'what's the worst they are going to do – they're not going to kill me are they?'"
"He was the last person to confront someone in that situation and that has made his death all the more difficult to accept."
Mr Hussain said that his brother-in-law was proud to live here and had every faith in the British system, adding: "His killer needs to be brought to justice and if anyone knows something or suspects who might have been involved it would be a sin for them not to come forward."
Police investigating the murder held anniversary checks on Wednesday night in Wast Hills Lane, Kings Norton, two weeks on from when Mr Arshad was found fatally injured there on July 22.
Officers spoke to motorists including some who were in the area on the night in question and as a result are now following up several lines of inquiry.
Detectives hunting Mr Arshad's killer are still trying to identify a man calling himself Peter who phoned for a taxi from a kiosk at the junction of Monyhull Hall Road and Lindsworth Approach at around 8.20pm on the evening of the attack. Mr Arshad, who was driving a blue Ford Galaxy people carrier, was sent to pick him up from outside Broadmeadow School 300 yards away in Monyhull Hall Road.
After Mr Arshad was found injured in Wast Hills Lane at around 8.40pm his taxi was discovered abandoned about a mile away in Shannon Road.
Witnesses or anyone else with information should call police at Redditch on 0300 333 3000 or ring Crimestoppers anonymously on 0800 555 111.
Related Articles