 Midland Curry house sets new world record for tallest Poppadom tower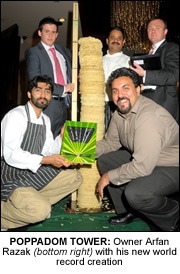 A MIDLAND curry house is 'on poppa the world' after breaking the world record for the tallest poppadom tower.
A team of chefs and waiters at Nottingham's Curry Lounge joined owner Arfan Razak in the attempt to beat the previous record set by Nahim Aslam and Fayaz Aslam, at the Indian Ocean restaurant in Lancashire in 2007.
The duo climbed their way into the world record books building their stack of poppadoms 4 ft 10 in tall.
But Arfan and his team went higher – beating the record by 3cm.
In accordance to guidelines from The Guinness Book of World Records, independent witnesses were on hand to verify that the attempt was carried out correctly – making sure that the total height of the 1,052 poppadoms were measured.
The witnesses, Tom Nicholson from accountants UHY Hacker Young and Tom Redgate from law firm Rothera Dowson, will submit written reports to Guinness, along with photographs and video footage.
"We're all really excited that we managed to get the poppadom tower to such an immense height," owner Arfan said. "Special thanks to my chefs Jamshed Aktar, Imran Quershi and Sumil Bhatia.
"It was great fun, but there were some nerve-racking moments when we reached the current record holder's height, because we knew from our many practice runs that the weight of the poppadoms would begin to make some of the lower ones crack.
"It just goes to show that you can smash any world record if you have an enthusiastic yet determined team with you, right through from start to finish."
A spokesman for the Guinness Book of Records said that it is hoped the record bid will be determined within six weeks.
The Curry Lounge was voted Best Indian Restaurant East Midlands 2008 by the Customer Excellence Awards and featured on Gordon Ramsay's Kitchen Nightmares series.