 'Sentence will warn others', says Lord Ahmed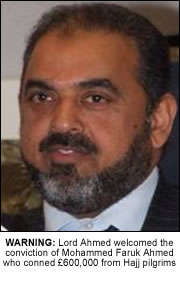 LORD Ahmed has welcomed the conviction of a Hajj fraudster who conned over half a million pounds from innocent Muslims saying it will act as a warning to other unscrupulous travel operators.
Mohammed Faruk Ahmed, 41, was jailed this week for six years after he gambled away £600,000 given to him by a number of British Bangladeshi's in London to organise pilgrimages to Mecca.
He attempted to flee the country but was arrested by police at Gatwick airport.
Lord Ahmed said his conviction was a victory for innocent Muslims.
"This judgement will have a long-term impact and will help to protect vulnerable prospective Hajj and Umrah pilgrims by eliminating the unscrupulous and rogue tour & travel operators from British Hajj and Umrah industry," he said.
"The Muslim community in Britain highly commended the efforts of the Law Enforcement Authorities including London Metropolitan Police and Trading Standards."
Over 25,000 British Muslims are estimated to make the journey to Mecca each year.
But a worrying rise in fraud cases has led the government to take action.
Last year Consumer Minister Gareth Thomas wrote to every MP encouraging them to raise awareness of this issue in their constituencies and met tour operators and pilgrims' groups to discuss improving the situation for those travelling to Mecca.
One group who have actively fought for the rights of British Hajj travellers is Birmingham based Association of British Hujjaj.
Khalid Pervez, General Secretary of the group said the conviction was a "historical judgement."
"This is a historical judgement and a victory to all those who were victims of this scam. This judgement will be a deterrent in the worsening situation of exploitation of Hajj & Umrah pilgrims," he said.
Related Articles