 Jaz Dhami gears up for release of debut album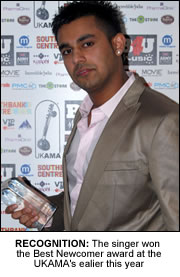 BRITISH Asian music star Jaz Dhami has revealed his delight at the recognition he has received from his peers ahead of his debut album release.
The Birmingham-born singer, who graduated from the acclaimed Liverpool Institute for Performing Arts, has become one of the most highly rated performers in the Asian music industry.
He has collaborated with a host of established stars and was honoured with the Best Newcomer award at the UK Asian Music Awards earlier this year.
His achievements are all the more remarkable considering his debut album has yet to be released.
The self-titled album is expected to hit the shelves later this month, and the singer is eager to thank those who supported his meteoric rise in the Asian music industry. 
"The recognition that I have received so far in the industry has been overwhelming and I would like to personally thank everyone that has helped me making my dream of making music a reality," he told us.
"I am extremely delighted with the album. I have worked tirelessly perfecting it and ensuring that it met a high standard, and I hope this is reflected in the final piece."
The singer will front a star-studded launch party at the end of the month to officially launch the album.