 City leaders put pressure on Air India to resume direct flights from Birmingham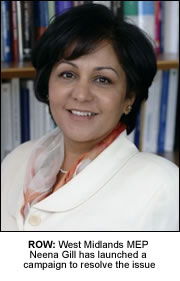 A WEST Midlands MEP has begun a battle to force Air India to resume direct flights to Amritsar from Birmingham Airport.
Neena Gill is angry that the Midlands, which has a significant Sikh community, has been left without a direct route to India's holiest city after Air India suspended its flights from Birmingham Airport in September last year.
The airliner, which made the move to protect its slots at Heathrow airport, began the popular route in 2005 with an average of 100,000 people using the service each year until it suspended its service.
Other airlines have stepped in to fill the gap but flights are re-routed before arriving in Amritsar.
Neena Gill and a host of business leaders across the Midlands are urging Air India to reconsider their move.
"Air India's decision has affected our Punjabi community in many ways," Ms Gill said. "This service is not only essential for business and a vital link between our two regions but also, for many, a much needed link to friends, family and loved ones.
"As we all know Amritsar is a place of enormous significance to the Sikh community, the spiritual home of Sikhism, and to have this link cut off by Air India, who are seeking to protect their Heathrow slots, is an issue of great concern to the Sikh community in the West Midlands."
Ms Gill, who set up a Facebook group earlier this year to garner support for her campaign, said while discussions with Air India over the matter had been "encouraging" action needed to be taken from the airliners top management.
The main stumbling block in the matter seems to be Air India's refusal to give up its slots at Birmingham airport even though it refuses to fly from the airport.
Regulations set by the Indian government mean no other airline can fly direct from Birmingham to India.
Ms Gill said she has been working on trying to get the Indian government to relax its rules.
"It is extremely regrettable that Air India have put their needs before those of the Punjabi community here in the West Midlands and I believe that the decision also contradicts the spirit of the EU-India Aviation Agreement," she said.
"Despite the fact that the Birmingham to Amritsar route has proven itself to be both popular and profitable no other airline is now allowed to take it up.
"Action needs to be taken to force Air India to give up its slots at Birmingham Airport and I have communicated this with both members of the Government in New Delhi along with officials in the EU."
Joe Kelly, chief executive of Birmingham airport also voiced his concerns saying the direct route was "vital" for business links in the city.
"It is economically important when you consider that Tata, who bought Jaguar Land Rover, cannot fly direct to Birmingham from India. This is the single most important transport priority for the entire region".
Although Air India could not be reached for comment, earlier this year a spokesperson for the airliner told the Birmingham Post they had not given up on the route.
"We are trying our best to get the route back to Birmingham, and we are hopeful. We still have our local office up and running and we have not abandoned Birmingham," a spokesperson told the newspaper.
For latest developments log on to www.neenagill.eu.