 Six years jail term for Mohammed Faruk Ahmed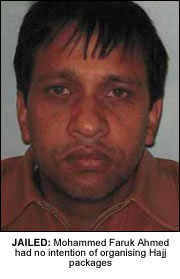 A LONDON man who gambled away over half a million pounds given to him to arrange Hajj pilgrim packages has been jailed.
Mohammed Faruk Ahmed, 41, of Brick Lane, took the money from a number of Bangladeshi Muslims with the promise of organising Hajj packages last year.
But he never had any intention of organising the trips, instead gambling away most of the money before fleeing the country.
Ahmed pleaded guilty to a string of fraud and money laundering offences. He was jailed for six years at Snaresbrook Crown Court.
Officers at Tower Hamlets were first alerted to Ahmed after a number of concerned local residents from the Bangladeshi community alleged to have handed him large sums of money to arrange travel packages to last years Hajj pilgrimage.
Initial checks revealed that Ahmed had been operating under the trade name Quibla Hajj Kafela Services and had been accepting cash and passports from hundreds of unsuspecting clients.
Shortly before the trip was due to take place Ahmed disappeared leaving many clients desperate to reclaim their passports and make alternative arrangements for their pilgrimage.
A raid at Ahmed's business premises revealed over 300 passports and paperwork that identified that approximately £600,000 had been taken in pilgrimage fees.
Details were also discovered which proved much of the money had already been gambled at various casinos and bookmakers.
Ahmed, who had fled days earlier to Bangladesh, was eventually arrested at Gatwick airport and charged with the offences.
A number of impact statements from Ahmed's victims were read out in court, including many from elderly Muslims who had saved years to attend the Hajj pilgrimage.
Detective Inspector Des McHugh who led the investigation said: "The Court recognised the impact that this fraud had on its victims. This aggravated the crime and the sentence imposed reflected this. Tower Hamlets Police are still in communication with the Bangladeshi authorities requesting remittance of 1/4 million pounds acquired as a result of this fraud.
"We have supplied relevant documentation requesting their assistance and will keep victims informed. These assets will be subject to a confiscation hearing in the near future".