 Shah Rukh Khan honoured at British University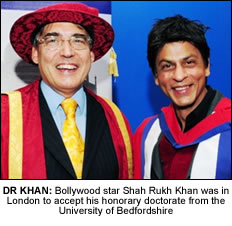 THE King of Bollywood, Shah Rukh Khan can now add Doctor Khan to his glittering resume after he was awarded an honorary doctorate from the University of Bedfordshire in a ceremony in London.
Khan was presented with an honorary doctorate in Arts and Culture in recognition of his outstanding contribution to the arts, culture and media.
Scores of distinguished guests packed The Washington in London to witness the special ceremony, including the High Commissioner of India to the UK Mr Shiv Shankar Mukherjee.
Accepting the honour, Khan, said: "I was thrilled to be nominated for this award and feel honoured to receive it from the University of Bedfordshire which is a marvellous institution.
"I am a great follower of education and I would like to use this award and my position as an actor to help deserving children go on to further education, be it financially or in some other way."
The decision to bestow Khan with the honour was made by Deputy Vice Chancellor Ashraf Jawaid.
Reading Mr Khan's citation, he said: "We are truly delighted to present this award to Shah Rukh Khan. He has a huge fan base across the globe and has made an outstanding contribution to the arts, culture and media which is recognised around the world."
Khan was nominated for the honorary doctorate by Routes 2 Roots, a non-governmental organisation which endeavours to bring together people, cultures and values from across southern Asia, in particular India and Pakistan.
Rakesh Gupta from Routes 2 Roots said they nominated Khan for the honour because "he is not only an entertainer and the King of the Indian film industry but he is also a philanthropist who has been silently working for the betterment of the underprivileged."
Khan joins a list of Bollywood stars who have been awarded honorary doctorates. Amitabh Bachchan, Shilpa Shetty, Akshay Kumar and AR Rahman are just some who have received the honour.