 Dancing groom and parents claimed compensation for non-existent injuries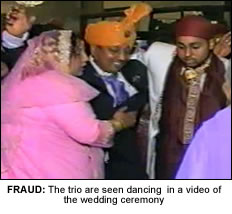 A GROOM and is parents who invented injuries to falsely claim compensation following two minor crashes on his wedding day have been jailed.
Andrew Singh, 26, his father Graham, 53, and mother Niramella, 49, claimed they had suffered whiplash and various injuries when a coach carrying family members and guests to Preston was involved in two minor accidents.
But when their claim was taken to civil court video evidence showing the trio dancing at the wedding reception emerged.
The family, from Old Trafford, Manchester, pleaded guilty to conspiracy to defraud and perjury. They were each sentenced to a year in prison.
Andrew's two brothers Roy Lakanveer Singh, 20, and Tony Singh, 22, were also charged with conspiracy to defraud and conspiracy to commit perjury, but the court has ordered that their charges lie on file.
A total of 73 personal injury claims were made following the collisions and some resulted in payments by the coach firm, Hollins, insurers, but 27 were contested.
During the civil trial at Manchester County Court in September 2006, the family had attempted to deceive the court telling the judge that they had suffered numerous injuries.
The grooms mother, Niramella, testified that she had suffered a painful shoulder injury, while best man and brother to the groom, Tony, said he badly jarred a wrist in the impact.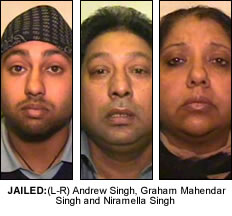 But when the judge viewed a copy of the wedding day festivities, the family's web of lies and deceit unfolded.
In shocking video evidence the family were seen singing and dancing – leaving the judge to conclude their claims were almost completely fabricated.

Only two of the 27 contested claims were deemed genuine and the Singhs' bid for about £1,500 each for their non-existent injuries was thrown out and they were each ordered to pay £73,000 costs.

The case was then passed to the Crown Prosecution Service and finally became a police matter.

Following an extensive police investigation it emerged that Andrew and his father Graham were not even on the coach when it was involved in the collision.
Detective Constable Chris Harrison, who led the police investigation, said: "These claims may well have caused Hollins, a small, local company, to go bust.

"This was not only an attempt to make a false insurance claim for money; this was also an insult to the civil courts system. These three family members knowingly lied during a civil hearing in front of a judge.

"False insurance claims are criminal, fraudulent offences. The Singh family is lucky that the sentence was not more severe."