 Statue of Indian leader unveiled in hub of City's Asian community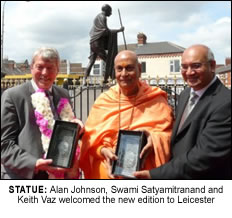 THE long-awaited statue of Mahatma Gandhi has finally been unveiled in Leicester.
Home Secretary Alan Johnson made one of his first official appearances in his new role when he joined Hindu spiritual leader, Swami Satyamitranand at the unveiling of the statue last month.
The statue, which is situated on Belgrave Road – the hub of the city's Asian community – is only the second of the inspirational leader in the UK.
Members of the British Asian community travelled from all over the UK to attend the event, with Spiritual leader Swami Satyamitranand arriving from India specially for the unveiling.
Leicester MP Keith Vaz said he was "proud" the statue had been erected in the city.
"It is absolutely wonderful that the new Home Secretary has attended and unveiled the new statue at this exciting occasion," he said.
"I am so proud that only the second statue of Mahatma Gandhi in the United Kingdom will be based in Leicester.
"This is the most important event of the year for the British Asian community and people are travelling from all over the UK for the event. This statue is an excellent symbol of Mahatma Gandhi's and Leicester's commitment to diversity."
Prime Minister Gordon Brown also visited the £20,000 statue during a visit to the city.
He laid a garland at the feet of the statue and wrote the following message in the visitors' book: "This statue is an inspiration to all who will visit. It reminds us of the great courage and vision of Gandhi and the great changes we can all work together to achieve."
The two-year campaign to erect the statue was dogged with problems after local residents objected to it saying Gandhi did not have any links to the city.
But Leicester City Council approved the plans put forward by Leicester-based charity Samanwaya Parivar.