 Paul Chowdhry returns to tickle us silly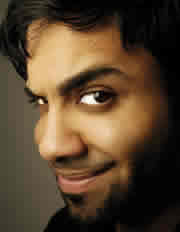 Comedian Paul Chowdhry is fast becoming a name on the UK comedy circuit. Having faced crowds at Glastonbury and the Edinburgh Festival, he returns to Birmingham this month for his 'Back by Demand' show at the Drum.
We caught up with the comedian born Tajpaul Singh Chowdhry to find out why he feels us Brummies need cheering up. Interview by Zeenat Moosa
Before we begin, I have one burning question… Is your name really Paul?
Then before asking me this question call the fire brigade. Yes it is my real name. My full name is Tajpaul Singh Chowdhry. It got shortened to Paul when I started school at the age of four. When teachers were told my full name it confused them in the late 70's. (I tried to explain but they were the teachers, apparently.)
You're back at the Drum in July with the 'Back by Demand' show. Do us Birmingham folk need cheering up?
Everyone needs cheering up now and again especially Brummies. The accent is the accent of constant depression. They never sound excited even when they are.
Tell us a bit about the show. What can we expect?
It's been a year since I was at the Drum. Last year I was booked for the studio, then due to unprecedented demand I was moved into the main room. More than double the expected attendance arrived. It was a roadblock, standing room only. Now I'm playing the Theatre, the largest room of the venue never before used for a stand-up show.
In 2008 my show was very well received and people have been requesting my return ever since. I'd say expect a new show with lots of new material and my trade mark unscripted improvisation, where I make up jokes on stage there and then right before your very eyes. I premier a brand new short documentary film, written, starring and directed by me. The show will even include a tribute to Michael Jackson.
How did you get to become a comedian?
When I started school at the age of four I discovered I was different to the other children. When the teacher would ask a question in class and I would reply, other children would receive this with hysteria. That made me feel good, but made the teacher feel humiliated. Most of the lessons were spent outside of the classroom. At that point I knew I had a gift I needed to take to the people no matter how many teachers tried to stop me.
What's the best thing about being a comedian? And the worst?
There is no one 'best' thing about comedy. There are so many layers to stand-up. I've been performing for eleven years now and am always learning something new, by constantly creating. I get to travel the world, talk to so many different people and entertain them. Save them I like to think. Touch them with my legendary presence. The worst thing would be the many miles of travelling, oh and the touching people. (Especially if they call the police.)
Who do you normally target your material to?
I target my material to human beings, creating material that can transcend any racial boundaries. Although when addressing different audiences there is a difference in the style of delivery and subject matter, I make these transitions and adapt to a certain degree. But at my one-man shows it's pure, uncut, no holds barred Paul Chowdhry.
What sort of response do you get from the Asian Community to your work?
I haven't really asked the Asian Community for their opinion but when I perform one-man shows the audience tend to be 80% Asian, so I would imagine they have embraced me as the voice of their people. But you may want to ask them before you quote me on this.
There are a few Asian comedians out there – Shazia Mirza, Paul Sinha, Russell Peters – is it fair to label them as 'Asian comedians', or should they be viewed without their ethnic tag?
I can't speak for those idiots. Like in any job, you should be judged on the content of your work rather than your ethnic origin. It's irrelevant unless the only people you can relate to and entertain are from that ethnic demographic or if you're performing in a foreign language. I don't refer to my doctor as an Asian doctor. This is mainly because she's Jewish. I'm a comedian who happens to be Indian.
What is your stance on the way Asians are usually stereotypically made fun of in the media (Goodness Gracious Me etc).
It's hard to believe Goodness Gracious was over ten years ago. It's time to move on from easy stereotypes. The representation of the Asians in media hasn't really moved on a great deal. Within the British entertainment industry Asians and Blacks are where Black people were in the American entertainment industry in the 1960's. There is still a great deal of work to be done.
Where do you get your inspiration from for your routines?
Life is my inspiration. Things happen to us all the time, being a comic you just look at it from a different angle. Sometimes turning tragedy into comedy.
You recently performed at Wembley Arena…How did that feel?
Yeah that felt nice. When there are eight and a half thousand people in front of you the performance becomes bigger. Performing to an audience of up to five hundred people you get a certain intimacy that you don't get with bigger crowds and comedy is an intimate art form.
What's your best joke?
I'd like to think I haven't written my best joke yet. That way you're always trying to improve and better yourself. You try to write about things that move you and entertain you at that particular time. You treat each joke like it's your child that you must let free into the world for the people to enjoy. That sounds wrong.
Finally we all find you funny Paul, but who do you find funny?
There are many comics over the past fifty years I have enjoyed and have inspired me. But I find real people the most interesting. Characters I create come from real people I encounter. People you can just watch doing the simplest of things in an unusual manor. Like the way you've conducted this interview.
Paul will be appearing at The Drum on Saturday 4th July.
For more information call Box Office: 0121 333 2444
He will also be appearing at London's Leicester Square Theatre on 24 and 26 July.