 Family members still in critical condition, police say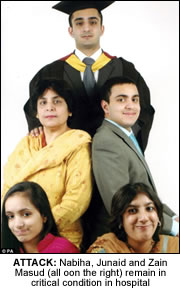 DETECTIVES have launched a murder inquiry after a 15-year-old girl lost her fight for life four days after a suspected arson attack on her home.
Teenager Maleha Masud suffered burns and smoke inhalation following the attack on her home in Tooting, South London.
She was rescued from the house with her 21-year-old sister Nabiha and their younger brother Junaid, 16.
Paramedics had to resuscitate Nabiha moments after dragging her out of the house.
Their mother, Rubina Masud, 53, and her 22-year-old son Zain Masud, a City banker, jumped from a first-floor window to escape the blaze in Lessingham Avenue last Sunday morning.
Rubina was discharged from hospital while Nabiha, Junaid and Zain remain in critical condition.
Speaking following the devastation of losing her youngest daughter, Rubina said: "I am devastated at what's happened. I can't believe anyone would do such a thing.
"I am just really concerned for my children. Please pray for them."
Detective Chief Inspector Damian Allain, who is leading the investigation, said: "A mother has had her youngest child taken from her in the most tragic circumstances.
"Her three other children remain seriously ill in hospital. They were at the place where they should feel safest, in their family home.
"Whoever has committed this act is not only a coward but is a dangerous individual who must be caught."
He added: "Hundreds of cyclists would have been in the area at the time making their way to the start point of the London to Brighton bike ride at Clapham Common.
"I would appeal to people who may have seen anyone carrying a petrol can or similar container to come forward."
Two boys, aged 14 and 15, were arrested in connection with the fire and bailed until August, pending further inquiries. No charges have yet been brought.