 King of Pop dies aged 50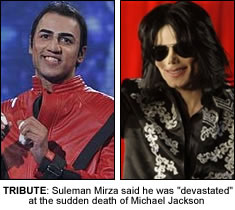 SULEMAN Mirza, one half of the Michael Jackson tribute duo Signature has spoken of his devastation at the death of his 'idol'.
Lifelong Jackson fan Mirza, along with friend Madhu Singh, rose to fame after appearing in last year's Britain's Got Talent show. The duo fused their love for the King of Pop with traditional Bhangra in an act that was narrowly beaten in the final by young dancer George Sampson.
Speaking on his website, Mirza said he was "devastated, heartbroken traumatised and stricken with grief" after hearing of Jackson's sudden death.
"A fan since the age of five, Michael Jackson has been a presence in my home and life ever since I can remember," he said.
"Michael Jackson touched my life so deeply and inspired me on so many levels that I am overwhelmed at this massive loss.
"I cannot begin to tell you how sad I feel. I pray that god will bless his soul and I know he is now in heaven still shining as bright as ever."

Jackson died of a heart attack at his rented home in the Bel Air district of Los Angeles yesterday.
The singer, who was preparing for his 50-concert comeback tour at London's O2 Arena next month, was rushed to hospital where doctors frantically tried to revive him.
But his death was confirmed by older brother Jermaine Jackson who said doctors had unsuccessfully tried to resuscitate the singer for over an hour.
Tributes have begun pouring in from all over the world for the star who had become a legend in the music world.
While his private life was overshadowed by child molestation charges, Mirza said the singer would be remembered for his undoubted brilliance as a musical showman. 
"Michael brought so much happiness to so many people around the world," Mirza added. 
"He showed us all how it is done with his talent and showmanship. He showed us what it means to be a true humanitarian and a true entertainer. He stood tall and proud while others tried to bring his down. He was and will remain the greatest superstar of all time."
Tributes also poured in from the world of Bollywood.
Actress Shilpa Shetty, who became close friends with Michael's older brother Jermaine during their appearance on Celebrity Big Brother in 2007, said: "He was an icon, who lead an extraordinary life. I admired him for constantly reinventing himself and for converting me – a Pop lover after Thriller."